(Last Updated On: July 6, 2021)
NRCETJOB DAILY CURRENT AFFAIRS PIB SUMMARY 7 July 2021
One Nation One Voter ID
Context:
The Election Commission of India (ECI) , In response to the COVID-19 pandemic, has made it possible for senior citizens over the age of 65 to vote by postal ballot, given that they are at higher risk of exposure to the novel coronavirus.
Till now, this option was available only to disabled citizens and people above 80 years of age.
Now, there is an opinion that the same forceful approach should be extended to another group that faces enormous difficulties in exercising their franchise: migrant workers.
Why migrant workers?
According to the 2017 Economic Survey, the number of internal migrant workers is about 139 million, which is about a third of India's labor force.
They are often unable to exercise their voting rights. Hence, migrant workers become semi-disengaged, forgotten voters because they cannot afford to return home on election day to elect their representatives.
Internal migrant workers do not enroll as voters at their place of employment because they find it difficult to provide proof of residence.
This group doesn't even create a noticeable vote bank.
There are many seasonal migrants who would rather vote in their villages than bear the cost of returning home.
What needs to be done now?
Ensuring that every Indian who is eligible to vote can do so, should be a central mission for the ECI.
The Election Commission has said that it is testing a Voter-ID based solution linked to Aadhaar so that voters can cast their vote digitally from anywhere in the country.
To facilitate voting by migrant workers, the Election Commission may take adequate outreach measures by using the network of District Collectorates.
Migrants must be able to vote physically in their city of work based on their current voter ID address and the duration of their temporary stay.
Conclusion:
A 'One Nation One Ration Card' is being introduced to enable migrant workers and their family members to get the benefits of the Public Distribution System from any fair price shop in the country.
Similarly, voting should be viewed not only as a civic duty but as a civil right. To ensure local ballot portability and empower the forgotten migrant voter, we must demonstrate political will to introduce 'One Nation One Voter ID'.
---
Child Soldier Recruiter List
Why in News
The US has added Pakistan and 14 other countries to the Child Soldier Recruiter List, which identifies foreign governments that have government-backed armed groups that recruit or use child soldiers.
Child Soldier refers to any person under the age of 18 who has been recruited or used by an armed force or armed group in any capacity.
This includes, but is not limited to, children, boys and girls who are used as fighters, cooks, porters, spies or for sexual purposes (Paris Principles on the Participation of Children in Armed Conflict 2007).
Key Points
About Bal Sainik Recruitment List:
The US Child Soldiers Prevention Act-2008 (CSPA) requires publication in the Annual Trafficking in Persons (TIP) report, which lists foreign governments that have recruited or used child soldiers. Some of the countries added in the list are Pakistan, Turkey, Afghanistan, Myanmar, Iran, Iraq, Nigeria, Yemen etc.
The United Nations (UN) confirmed that in 2019 alone more than 7,000 children were recruited and used as soldiers.
The CSPA prohibits the US government from providing military aid, including funding, military education and training, or the direct sale of military equipment, to countries that recruit and use child soldiers.
Related global conferences:
The recruitment or use of children under the age of 15 as soldiers is prohibited by both the United Nations Convention on the Rights of the Child (CRC) and the Additional Protocols to the Geneva Conventions.
The CRC states that childhood is distinct from adulthood, and lasts until 18; It is a special, protected time, in which children should be allowed to grow, learn, play, develop and flourish with dignity.
The Geneva Conventions and their additional protocols are at the core of international humanitarian law, which governs the conduct of armed conflict and seeks to limit its effects. They protect those who are not participating in hostilities and those who are no longer doing so.
The Optional Protocol to the CRC on the Participation of Children in Armed Conflict prohibits children under the age of 18 from compulsorily enlisting in state or non-state armed forces or directly engaging in hostilities.
Alternative protocols to human rights treaties are treaties in their own right, and are open to signature, accession or ratification by countries that are parties to the main treaty.
Recruitment of child soldiers is also considered a war crime under the Rome Law of the International Criminal Court (ICC).
Also, the United Nations has identified the recruitment and use of child soldiers as one of six "serious violations". The other five violations are:
The killing and crippling of children;
sexual violence against children;
kidnapping of children;
attacks against schools or hospitals;
Denial of human access to children.
Issues with the CRC:
These treaties are limited in scope and nature, and they tend to be idealistic rather than practicable.
The UN's mechanisms only bind state parties that ratify the treaties. Rebel militias recruiting child soldiers , It therefore has no authority over countries that are not parties to the convention or are non-state entities, such as.
It also relies on the signatories themselves to implement its doctrines and prevent human rights abuses around the world.
Therefore, most of the responsibility in preventing such abuses lies with the individual countries themselves.
While the UN views its treaties and conventions as binding on state parties, it has no police power mechanism to enforce its decisions.
The CRC and its Optional Protocol are limited by the signatories' willingness to comply. Somalia, for example, is a signatory but it hasn't ratified the convention.
Indian Scenario:
Though not very common in India, child soldiers are seen among non-state forces such as insurgent organizations in the NorthEast region (mainly in Assam, Manipur, Nagaland) and militant factions in the Kashmir region.
Also, they are hired in maoist affected areas of Andhra Pradesh, Chhattisgarh, Jharkhand, Karnataka, Maharashtra.
Some global human rights organisations allege Indian security forces of using children as spies and messengers, although the Indian government denies this allegation.
National Cadet Corps (NCC) which is run by the Ministry of Defence, aims to motivate youth from age 13 to take up a career in the armed forces (Army, Navy and Air Force) and Territorial Army.
They can not be equated with the child soldiers.
Steps Taken by Indian Government:
India is party to the Convention on the Rights of the Child (CRC) and acceded to Optional Protocol in November 2005.
The Constitution encompasses most rights included in the CRC as Fundamental Rights and Directive Principles of State Policy.
Article39 (f) states that children are given opportunities and facilities to develop in a healthy manner and in conditions of freedom and dignity and that childhood and youth are protected against exploitation and against moral and material abandonment.
The Indian Penal Code criminalises the recruitment or use in hostilities of persons under-18 years by state armed forces or non-state armed groups.
Adults of age over 18 years are recruited in the Central Armed Police Forces (CAPF).
Way Forward
International treaties and instruments, such as the CRC and its Optional Protocol are valuable and necessary tools to ensure betterment of children but these must be implemented by all parties in its true spirit.
In 2014, UNICEF launched the campaign "Children, Not Soldiers" to bring about a global consensus that child soldiers should not be used in conflict.
More such campaigns (Global as well as National) are needed to generate momentum, political will and international support.
Also, the reintegration of former child soldiers must be a strong focus of our collective efforts.
---
India's first plasma bank:
Established at Institute of Liver and Biliary Sciences (ILBS), Delhi.
Objective: To facilitate access to plasma which is being used as a test for treating COVID-19 patients.
How it works?
The plasma bank works like a blood bank, and is specially designed for people who are suffering from COVID-19, and have been prescribed treatment by doctors.
The bank will coordinate with patients who have recovered from COVID-19, and are eligible to donate plasma.
Who can donate plasma?
People who had the disease but had recovered for at least 14 days prior to donation may be considered.
People in the age group of 18 to 60 years and weighing less than 50 kg are eligible.
Women who have given birth are not eligible, because the antibodies they produce during pregnancy (after exposure to fetal blood) can interfere with lung function.
How is plasma donation different from blood donation?
In plasma donation, unlike blood donation, only the plasma is extracted and the other components of the blood are returned to the body.
Blood has many components, including red blood cells, platelets, white blood cells, and plasma.
While blood can be donated once in three months , 500 ml of plasma can be donated every two weeks, .
 How plasma therapy works?
Blood is taken from the person who has been cured of the COVID-19 disease.
Serum is separated and examined for virus neutralizing antibodies.
Convalescent serum, which is blood serum obtained from a person who has recovered from an infectious disease and is specifically rich in antibodies to that pathogen, is then given to a COVID-19 patient.
The patient receives passive vaccination.
How long will the antibody stay in the recipient?
After the antibody serum is given, it will remain on the recipient for at least three to four days. The sick person will recover during this time. Various studies have confirmed this
---
---
Swami Vivekananda
Why in News
Every year, 4th July is observed as the death anniversary of Swami Vivekananda, who is regarded as a one of the finest spiritual leaders and intellects India has produced.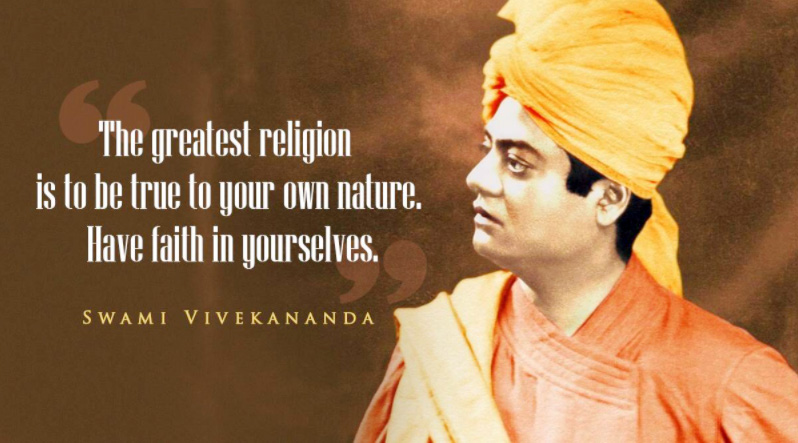 Key Points Born:
He was born as Narendranath Datta on January 12, 1863.
National Youth Day is organized every year to commemorate the birth anniversary of Swami Vivekananda.
In 1893, at the request of Maharaja Ajit Singh of Khetri State, he took the name 'Vivekananda'.
Contribution:
Introduced the world to the Indian philosophy of Vedanta and Yoga.
He preached 'Neo-Vedanta', an interpretation of Hinduism through a Western lens, and believed in combining spirituality with material progress.
He laid maximum emphasis on education for the upliftment of his motherland. Advocated a man-building character-building education.
Known for his speech at the World Parliament of Religions in Chicago in 1893.
Four ways to attain salvation from worldly pleasures and attachments have been described in his books – Raja-Yoga, Karma-Yoga, Jnana-Yoga and Bhakti-Yoga.
Netaji Subhas Chandra Bose called Vivekananda "the architect of modern India".
Affiliated Organizations:
He was the chief disciple of the 19th century mystic Ramakrishna Paramhansa and founded the Ramakrishna Mission in 1897.
Ramakrishna Mission is an organization that works in the field of value based education, culture, health, women empowerment, youth and tribal welfare and relief and rehabilitation.
In 1899, he founded the Belur Math, which became his permanent residence.
Death: He died in 1902 at Belur Math. Belur Math, located in West Bengal, is the headquarters of the Ramakrishna Math and Ramakrishna Mission.
See Also:
World Hepatitis Day essay 2021
NRACETJOB DAILY CURRENT AFFAIRS PIB SUMMARY 4 July 2021
Short Essay On Cyber Security In India 150, 250, 300, 500 and 600 Words
Overpopulation  Problem Essay , Article , Paragraph , Prevention Steps 2021